YES! of America United | Welcome!
Welcome to YES! where we give a Hand-up, not a Hand-out! Tweets by @YESUnited YES! is here to enrich persons living with disabilities via our educating outreach and programs allowing them to live engaged lives as members of their community. With YESunited.org, we have made available to you helpful resources, outreach opportunities, and information on how you can get involved by volunteering, joining YES!, or donating your time and/or resources to further our mission.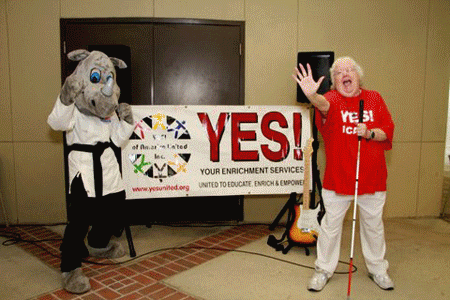 In the About section of the site, we have an introduction to our Programs, the history of how we got started, and where we are going. We have a link to our Disability Awareness program , and our annual F.A.I.R.--Family Abilities Information Rallies. YES's signature event, the F.A.I.R., is being held on October 5th, at the begining of Disability Awareness Month.
Please contact us with any questions you may have about how YES! can help you to find ways to live an enriched life as a fully integrated person within your community.
Vote for us on WEDU
If you firmly believe in our mission goal in getting people with disabilities understand they have value, that they can be a part of the greater community, that they have worth, then please vote for YES!
Please go to Wedu's Be More and click on the tab "Vote."
There, you will find YES! in the Be More Humble and Be More Empowered catagories. You are given the opportunity to read mission statements of other nonprofits. On the right side at the top, you'll see the poll. Select the nonprofit you believe deserving (the honor of that category we hope it's YES!) and then submit.
You will also find Becki Forsell in the Be More Vocal catagory.
For all three categories, Be More Humble, Be More Empowered, and Be More Vocal, you can vote every 24 hours., so be sure to come back each day and vote for YES!
Lastly, the F.A.I.R. has been entered into a catagory that is being judged by judges and not by popular vote.